Pan American
Advanced Studies Institiute Workshop
May 15th - 21st 2005
Click here for more information
---
Super Computing 2004
was held in Pittsburgh, Pennsyvlania on Nov. 6-12th, 2004.

We would like to send our appreciation for making this event a great success.
Click for more information about what this conference entailed and accomplishments that were done by our affiliates.
---
Please assist us in identifying research collaborations between US, Central and South America, Mexico and the Caribbean, Canada and the rest of the world that would benefit from the availability of an advanced networking infrastructure.
---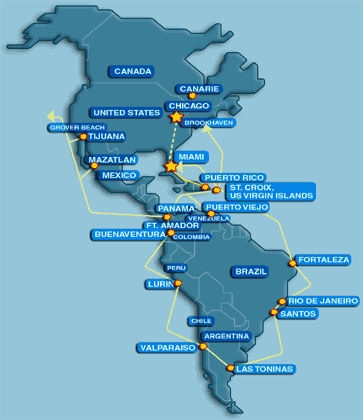 NOTE: Clicking on map locations will take you away from the AMPATH site. Use your browser's 'Back' button to return.
---
AMPATH UPGRADE:
AMPATH is pleased to announce that effective January 17th, 2003, its connection to Internet2's Abilene network was upgraded to an OC12c (622Mbps). This upgrade provides more bandwidth for wide-bandwidth applications to AMPATH participants in the Research and Education Networking communities of South Florida, South and Central America and the Caribbean.
---
AMPATH is a collaborative effort of Florida International University and Global Crossing, with support from the National Science Foundation through theStrategic Technologies for the Internet ( STI ) Program.

STI Award No. 0231844

Click here for information on AMPATH service maintenance

---
The Miami PoP for AMPATH connectivity is located at the Terremark NAP of the Americas.